deus ex machina
deus ex machina
multimedia installation & ceramics
instalacja multimedialna & ceramika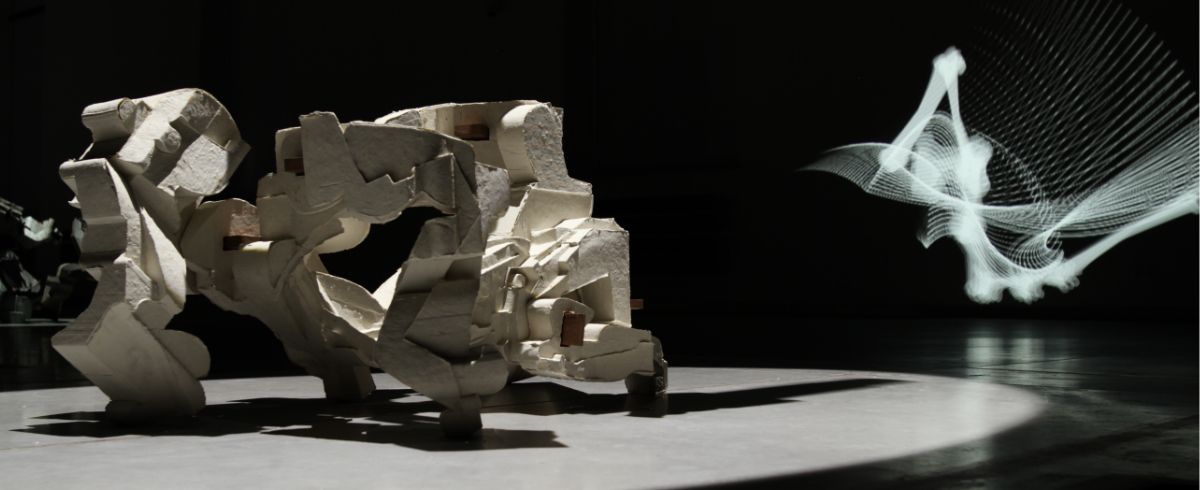 deus ex machina

/ exhibition view at The Science and Art Centre FORMER MINE, Galery CCU , Wałbrzych, Poland. In the foreground: SNIFFER 02/2011/2019 , in the background: WHITE BONE MACHINE 01 ( generative animation )

deus ex machina

/ widok wystawy: Centrum Nauki i Sztuki STARA KOPALNIA, Galeria CCU, Wałbrzych, Polska. Na pierwszym planie: SNIFFER 02/2011/2019 , w tle: WHITE BONE MACHINE 01 ( animacja generatywna )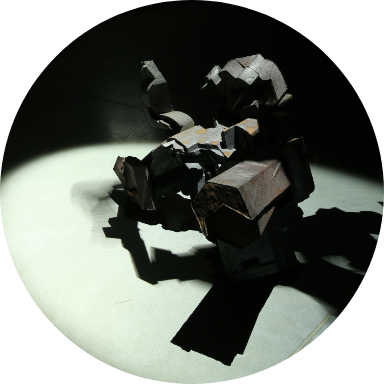 deus ex machina
multimedia installation / ceramic objects / animation / video mapping / 2019
Deus Ex Machina is a multimedia installation where I've adopted animation techniques and video projections to create the illusion of movement of multi-element ceramic sculptures. All elements of the installation - objects and animations, refer to modular animal-like machines. The objects originate from the Sniffers series in which form composition indicates the possibility of its independent movement and corresponding animations depict transforming shadows of the sculptures, thus giving the impression of their subtle movement. Additionally, I have incorporated into the exhibition space, a set of generative animations that had been programmed based on simplified kinematic equations. The algorithm, randomly picking the parameters of movement, provided continuity and uniqueness to the generated cycles of changes. The installation was composed in the building of Science and Art Centre FORMER MINE in the post-industrial area of a former coal mine in Walbrzych. The exhibition was curated by Piotr Micek. Date: 01.02.2019 -30.04.2019. Venue: Science and Art Centre FORMER MINE, Galery CCU , Wałbrzych, Poland.
deus ex machina
instalacja multimedialna / obiekty ceramiczne / animacja / video mapping / 2019
Deus Ex Machina to instalacja multimedialna, w której wykorzystane zostały techniki animacji oraz projekcje wideo w budowaniu iluzji ruchu wieloelementowych rzeźb ceramicznych. Wszystkie prezentowane realizacje w swoim kształcie nawiązują do modularnych, animalistycznych maszyn o transformujących się układach. Dedykowane tym działaniom formy przestrzenne to cykl prac Sniffers, który umownie odnosi się do konstrukcji maszyny, zwierzęcia o potencjalnych możliwościach samodzielnego przemieszczania się. Animacje bezpośrednio związane z układami poszczególnych obiektów przybrały kształty poruszających się cieni, tym samym wywołując wrażenie subtelnego ruchu rzeczywistych form. Dodatkowo do wystawy włączony został zestaw animacji generatywnych, które zostały zaprogramowane w oparciu o uproszczone równania kinematyki . Zapisany w kodzie algorytm, losowo dobierający parametry ruchu, zapewnił ciągłość i niepowtarzalność generowanych cyklów zmian. Instalacja zaaranżowana została w postindustrialnej przestrzeni na terenie byłej kopalni węgla kamiennego w Centrum Nauki i Sztuki, Stara Kopalnia w Wałbrzychu. Kuratorem wystawy był Piotr Micek. Czas trwania wystawy : 01.02.2019 -30.04.2019. Miejsce Wystawy: Centrum Nauki i Sztuki Stara Kopalnia, Galeria CCU, Wałbrzych, Polska
deus ex machina

/ multimedia installation

deus ex machina

/ instalacja multimedialna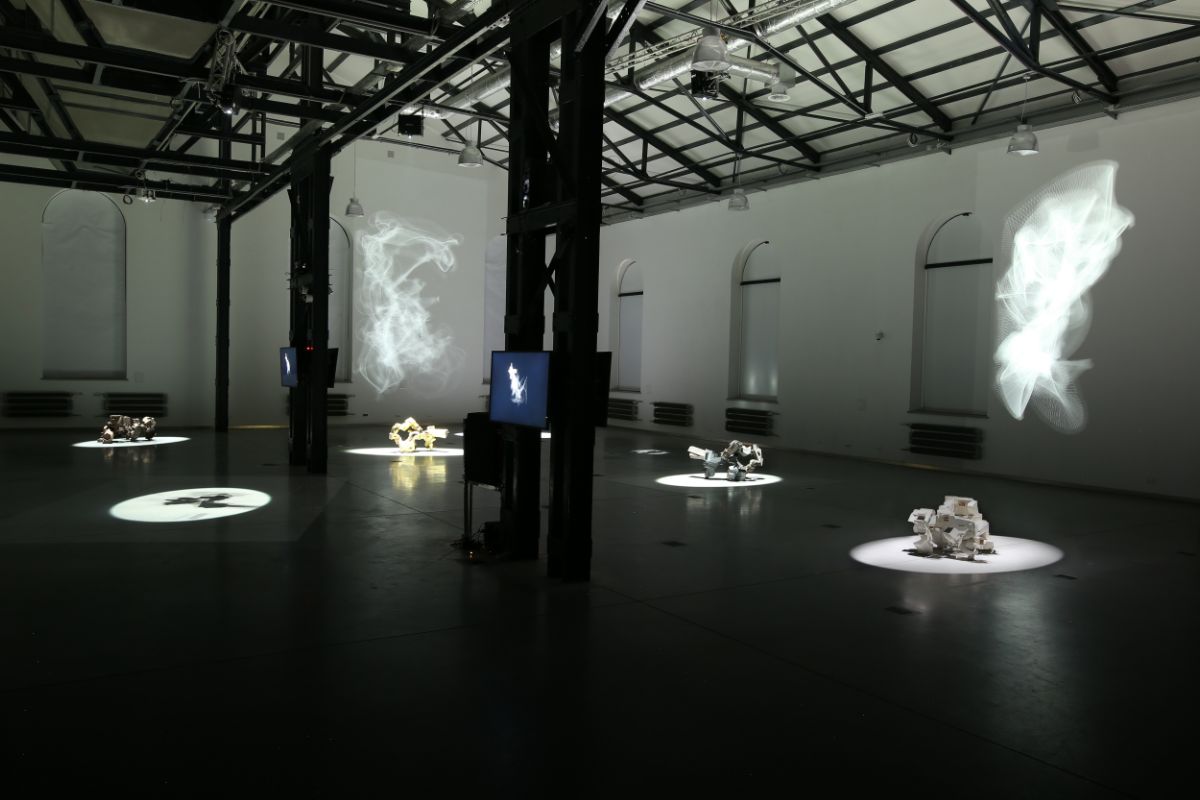 deus ex machina

/ overall exhibition view at The Science and Art Centre FORMER MINE, Galery CCU , Wałbrzych, Poland.

deus ex machina

/ ogólny widok wystawy w Centrum Nauki i Sztuki STARA KOPALNIA, Galeria CCU, Wałbrzych, Polska.
deus ex machina

/ ceramic objects / video mapping

deus ex machina

/ obiekty ceramiczne / video mapping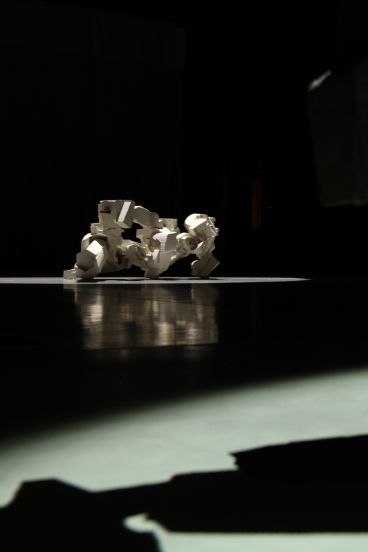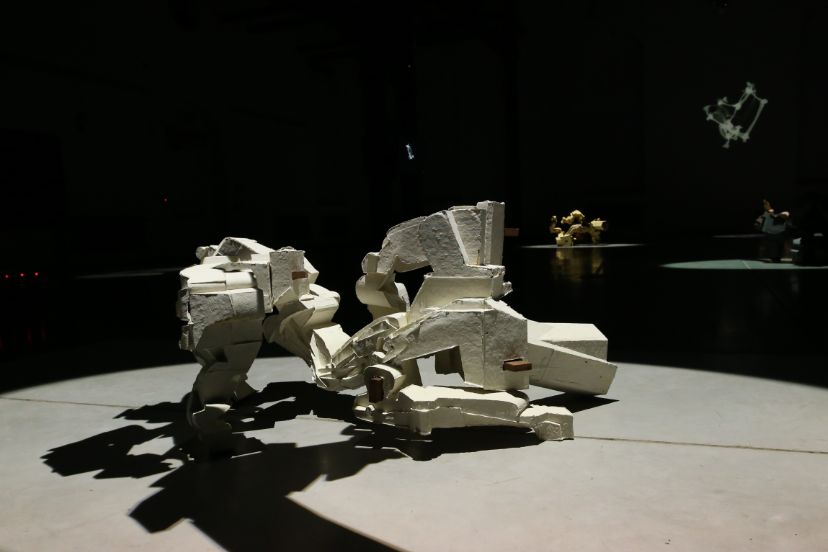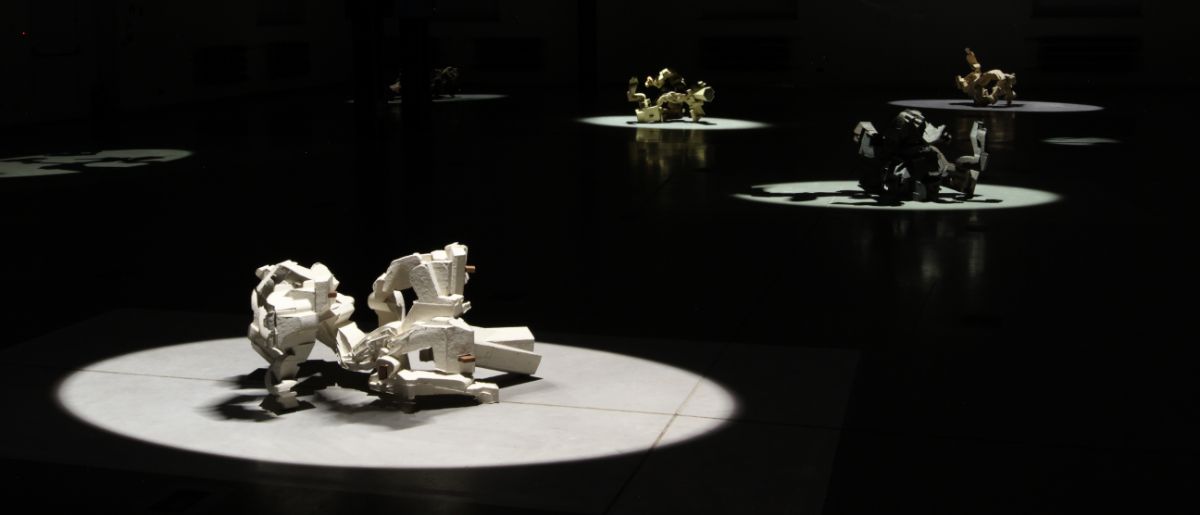 SNIFFER 02 /2011/2019 ( in the foreground )
SNIFFER 02 /2011/2019 ( na pierwszym planie )
deus ex machina

/ ceramic objects / animation

deus ex machina

/ obiekty ceramiczne / animacja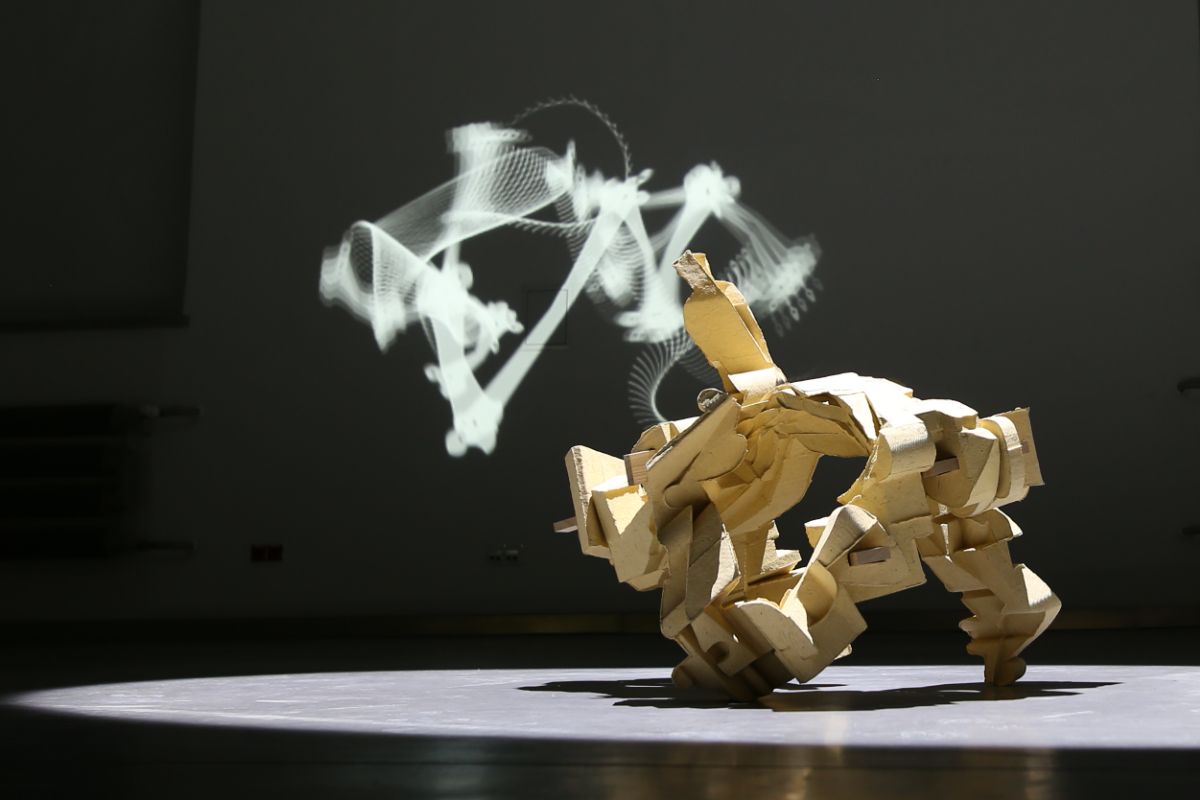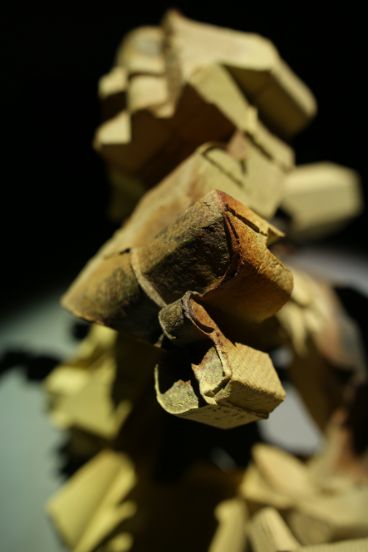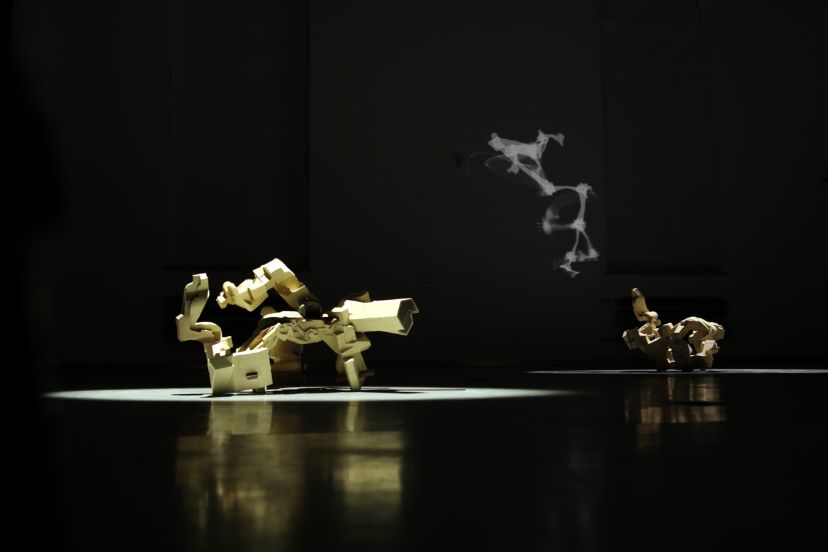 SNIFFER 04/2015/2019 ( on the top ). SNIFFER 03/2015/2019 ( on the bottom ). WHITE BONE MACHINE 02 ( generative animation in the background )
Na górze: SNIFFER 04/2015/2019. Na dole: SNIFFER 03/2015/2019. W tle: WHITE BONE MACHINE 02 ( generative animation )
deus ex machina

/ generative animation

deus ex machina

/ animacja generatywna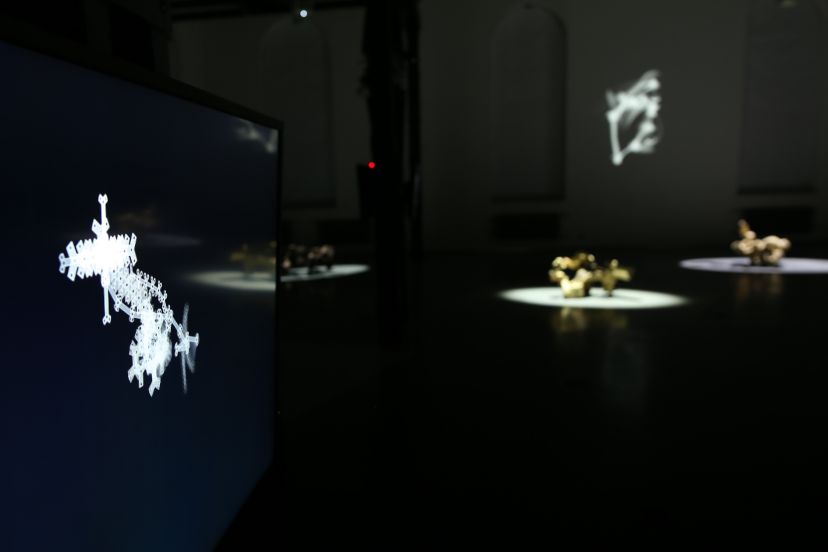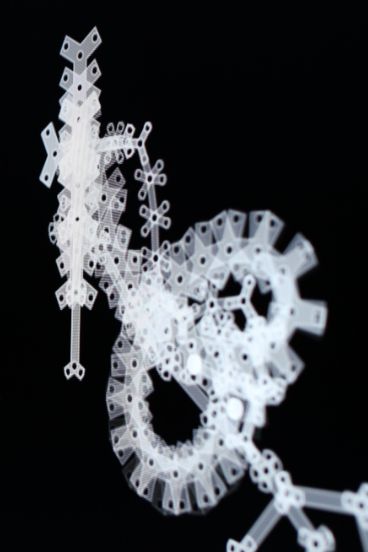 CHAIN 02 ( generative animation in the foreground )
CHAIN 02 ( animacja generatywnana pierwszym planie )